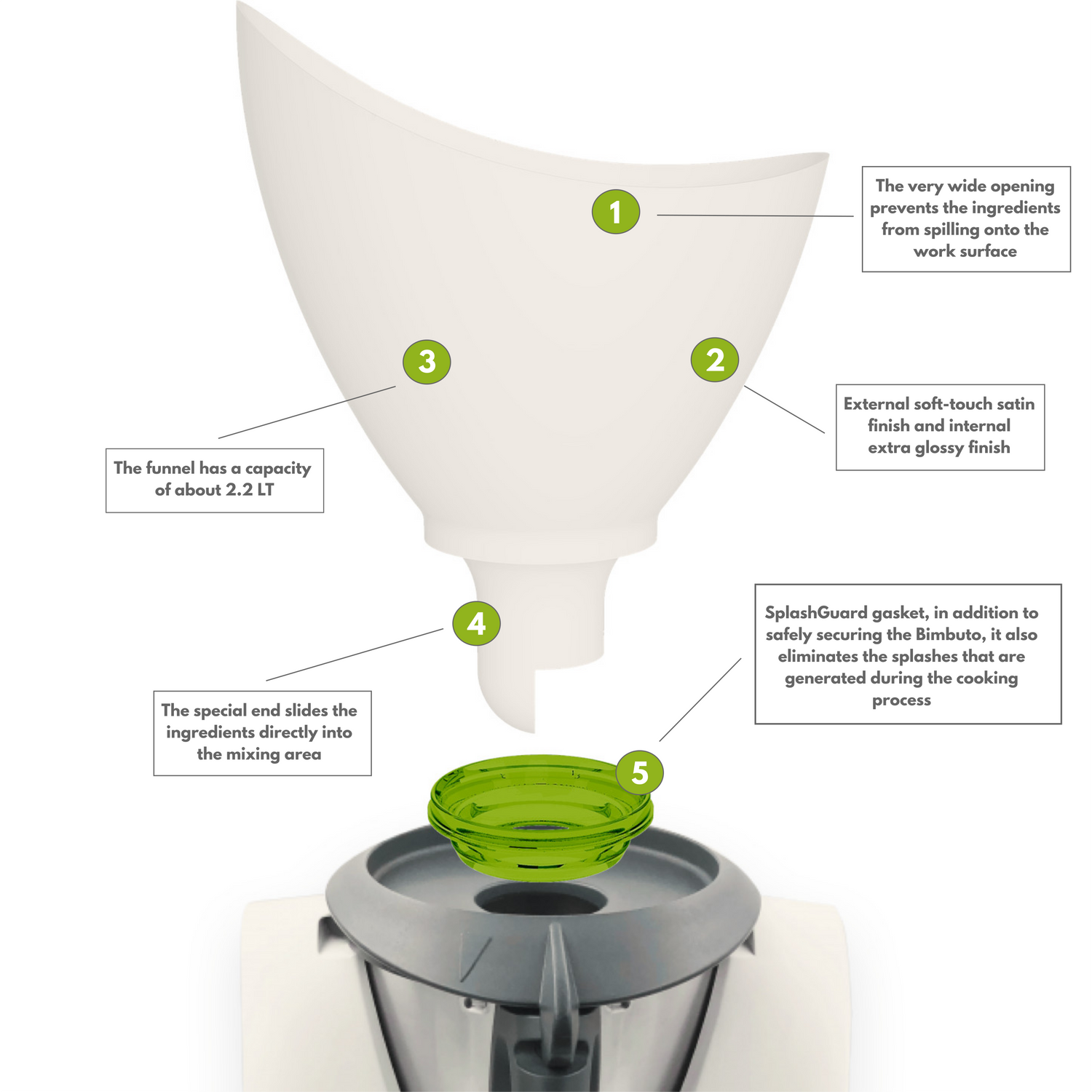 Bimbuto – The Funnel For Thermomix TM31, TM5 And TM6 And Monsieur Cuisine Connect And Plus
More than a funnel: the shape of the Easyflow tip is designed to make it easier to add and mix ingredients. The very wide opening also prevents the ingredients from spilling onto the work surface. The funnel has a capacity of about 2.2 LT.
BUY NOW!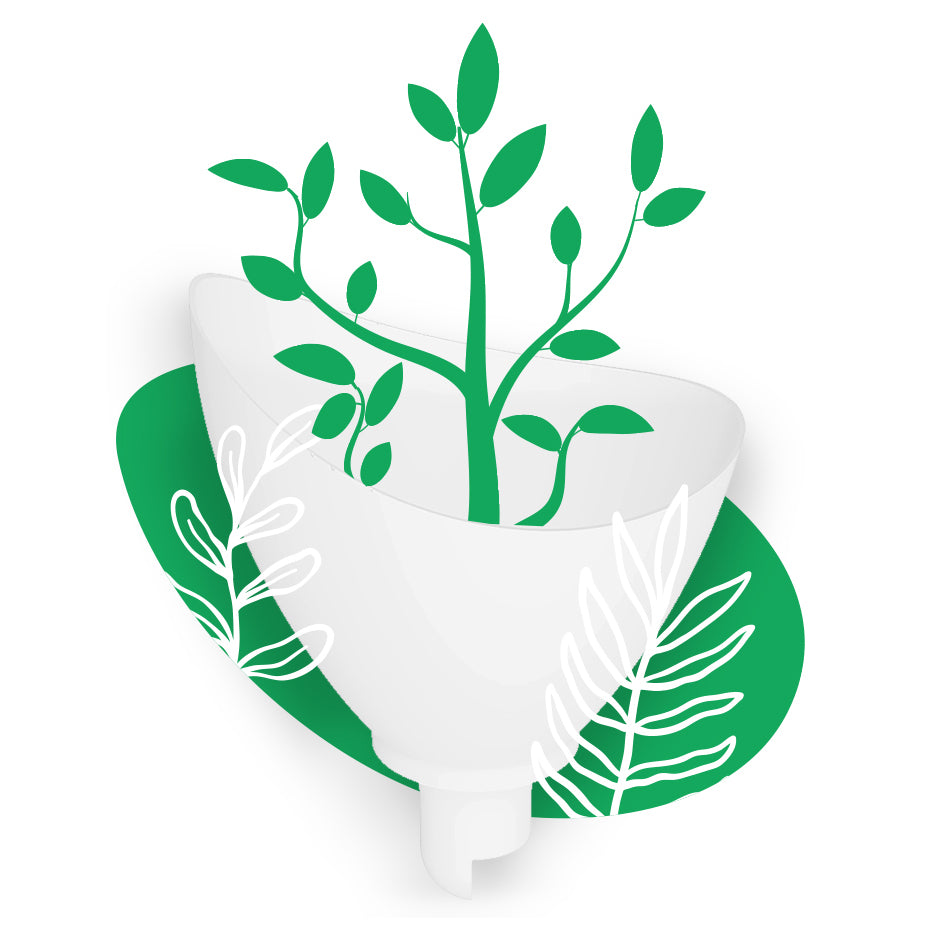 Environmentally Friendly
Entirely made of Polive, a biomaterial derived from vegetable oils and produced by bacteria through a natural process. It is the alternative to traditional plastic of fossil origin, resistant and non-toxic. The gasket is made of bio TPU, a thermoplastic rubber, recyclable at the end of its life
BUY NOW!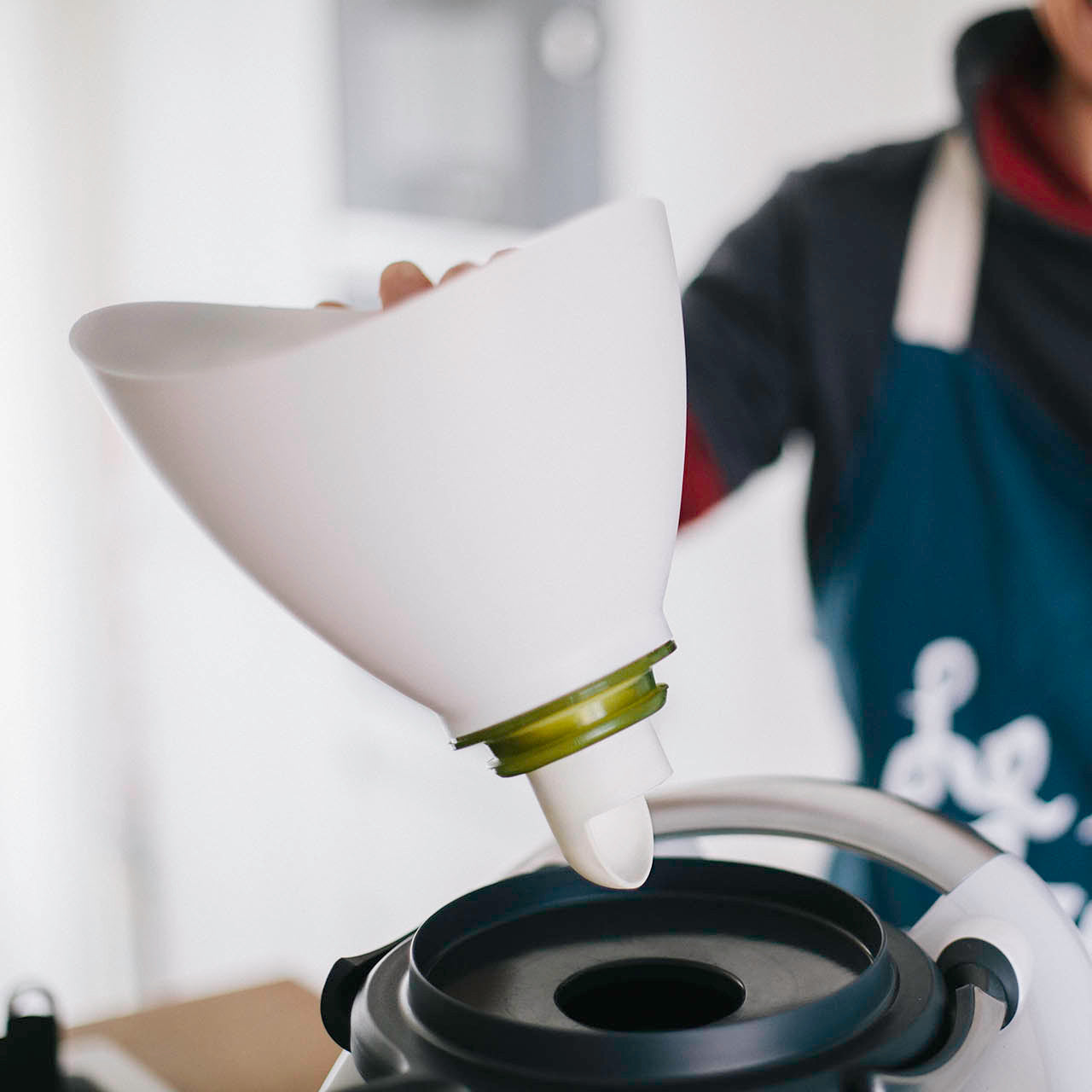 Designed And Made In Italy
The funnel is entirely designed and made in Italy. In addition to making it look great, the external soft-touch satin finish and the internal extra glossy finish also make it practical and functional.
BUY NOW!
Resistant for your kitchen, responsible for the environment

It looks like plastic, but it's not. The funnel uses a new 100% bio-based and BPA-free material, designed by Polive.

It is a 100% natural polymer, derived from waste biomass or renewable sources and produced by bacteria. It has a life cycle similar to wood: born of nature, resistant in its use and responsible at the end of its life. An effective solution to plastic pollution.

The gasket is made of bio TPU, a thermoplastic rubber, recyclable at the end of its life.

Bimbuto is a "sustainable" product, as the materials the body (funnel) is made of are:

- 100% Bio-based, from biomass that does not compete with the food chain

- Made without catalysts

- Made through biosynthesis and without transformations or additions of chemical additives

while the gasket is made with materials produced from waste vegetable oils up to 60% bio-based, recyclable at the end of its life

Practical and good-looking

Bimbuto is designed not to worry you: it is non-toxic, hygienic, suitable for food use and dishwasher-safe. Its design also allows you to always keep it mounted on your food processor and leave it in plain sight: in short, an ideal companion. Furthermore:

- The very wide opening prevents the ingredients from spilling onto the work surface

- External soft-touch satin finish and internal extra glossy finish

- The funnel has a capacity of about 2.2 LT

- SplashGuard gasket, in addition to safely securing the Bimbuto, it also eliminates the splashes that are generated during the cooking process

- The special end slides the ingredients directly into the mixing area
Regular price

Sale price

€34,99 EUR

Unit price

per